Dragon fruit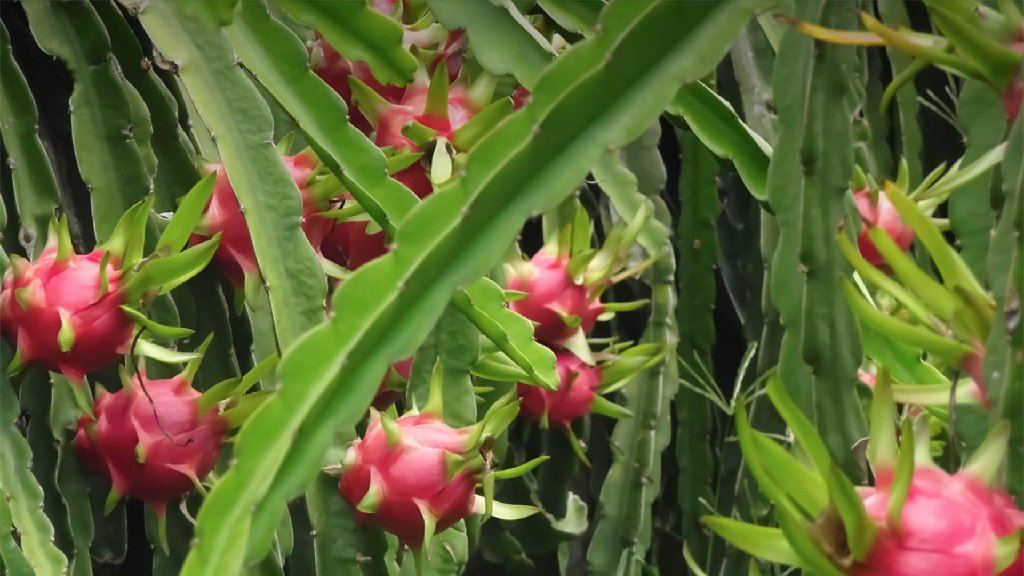 Dragon fruit has wonderful unique taste and high nutritional value. Dragon fruit plant is a fruit-producing cactus plant. Pitaya, or the white-fleshed pitahaya but most commonly known as Dragon fruit, is a cactus believed to originate from Mexico and is also native to several Central American countries and the northern parts of South America. Its seeds contain proteins as well as omega-3 and 6 fatty acids.

Types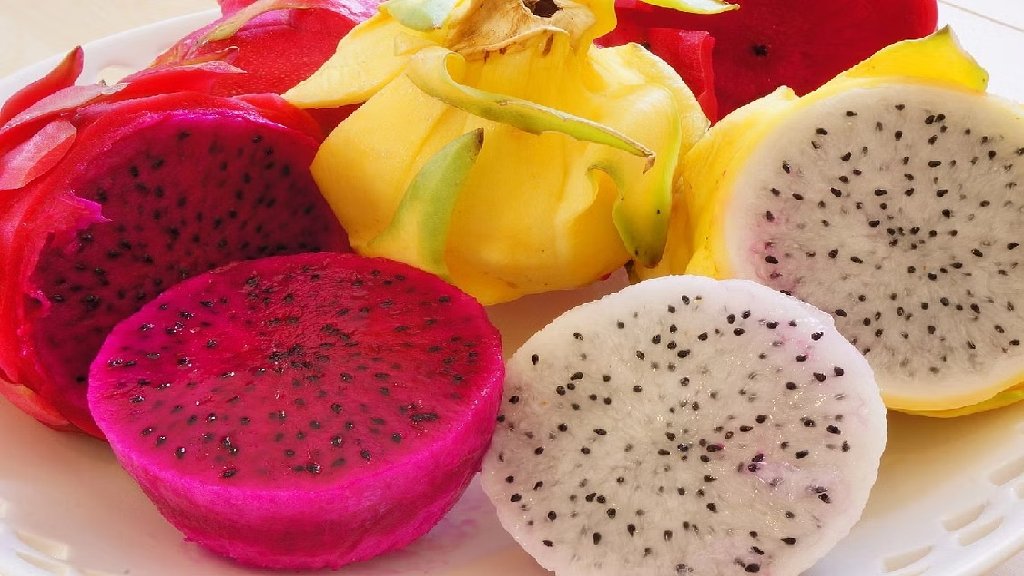 There are different types of dragon fruit commonly found in the Indian market. Popular varieties such as red dragon fruit, yellow dragon fruit, American beauty, bloody mary and Thompson variety.

Red dragon fruit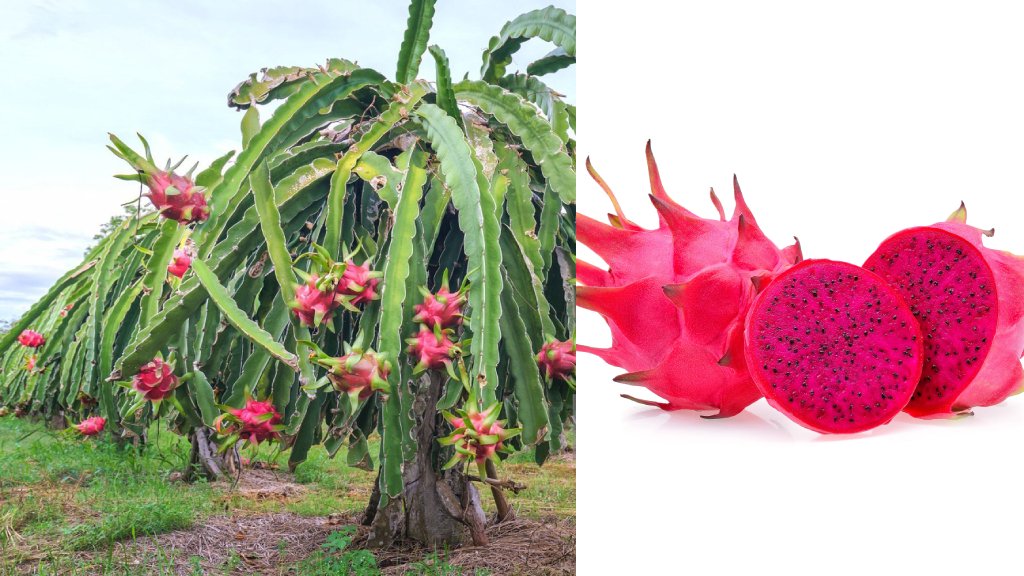 Fruit are elliptical to oval in shape with bright red colour. Red dragon fruit are odourless but have good taste. Seeds are edible with a crunchy texture. The red dragon fruit plant grows like a tree whose fruits contain vitamin C.
Yellow dragon fruit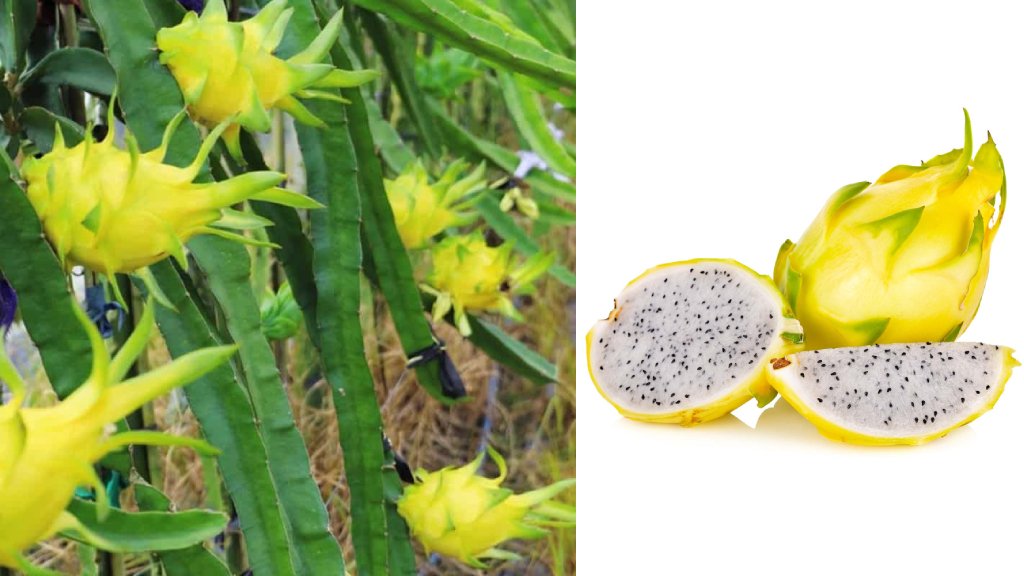 Yellow dragon fruit plant is very sweet with no acidity content. Dragon fruit skin is smooth with slightly rubbery. During the young fruit stage, the fruit has spines while ripening stage the spine falls off from the fruit. Pitaya fruit colour ranges from golden to yellow colour.

American Beauty

This variety of pitaya fruit has a good-looking appearance on both sides of the fruit. Pitaya fruit has pinkish to purple colour flesh. This pitaya variety has a long and thin cactus

Bloody mary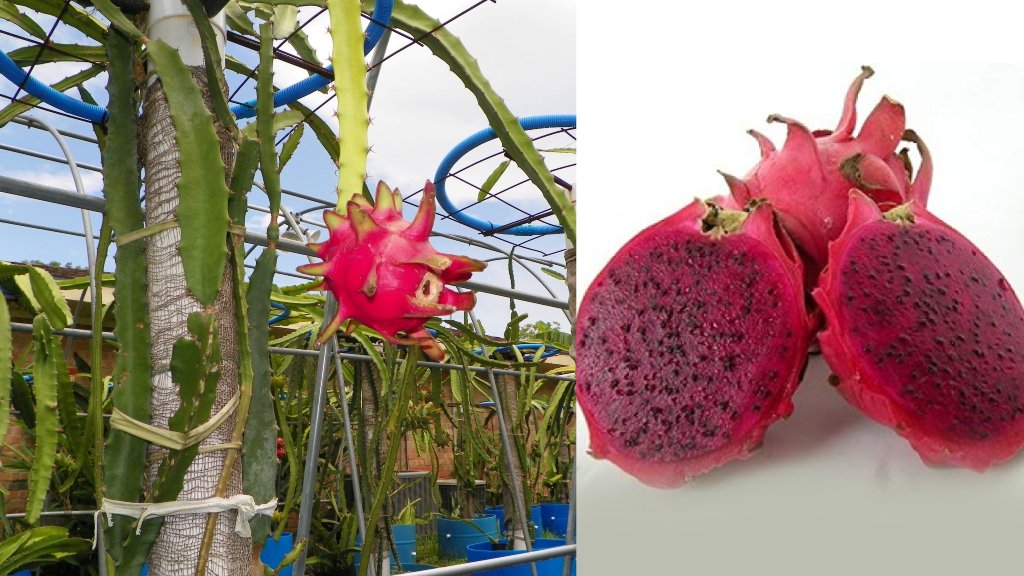 Blood mary cactus produces dark red fruit. This variety gets its name because of its bloody colour flesh. Rare variety with fantabulous taste. This cactus grows at the height of four feet tall. This pitaya cactus is slightly thin and long.

Thompson variety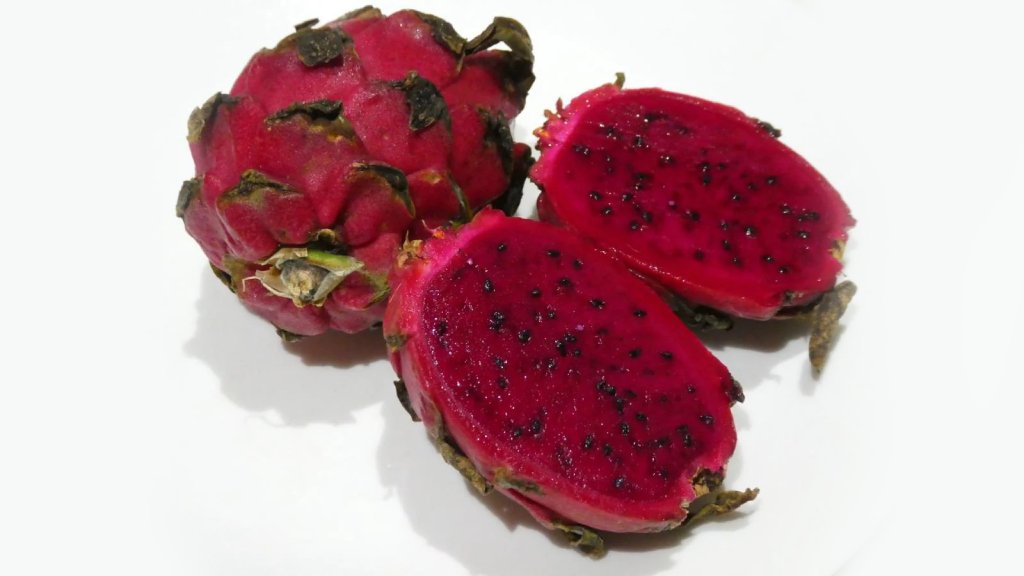 This clone variety adopts all climatic condition and those cactus has small thorns. This cactus doesn't need any pollinator because this is a self-fertile variety. The outer skin is green with pink colour.

Soil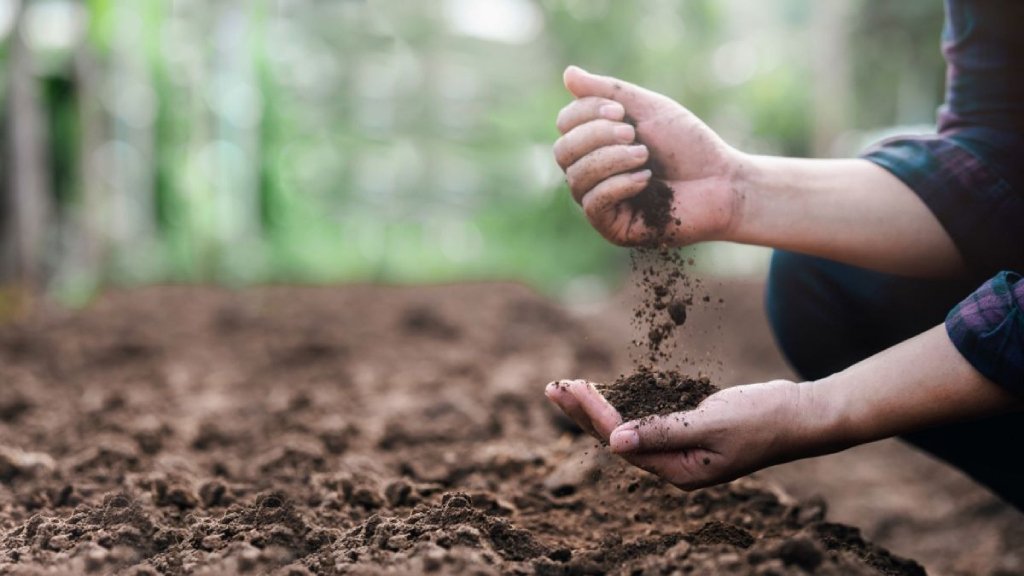 Pitaya fruit plant prefers to grow in all kind of soil, from clay to sandy loam. Fill the pot with the potting mix. Keep a gap of 1-2 inches between the rim of the pot and the soil surface.

Cuttings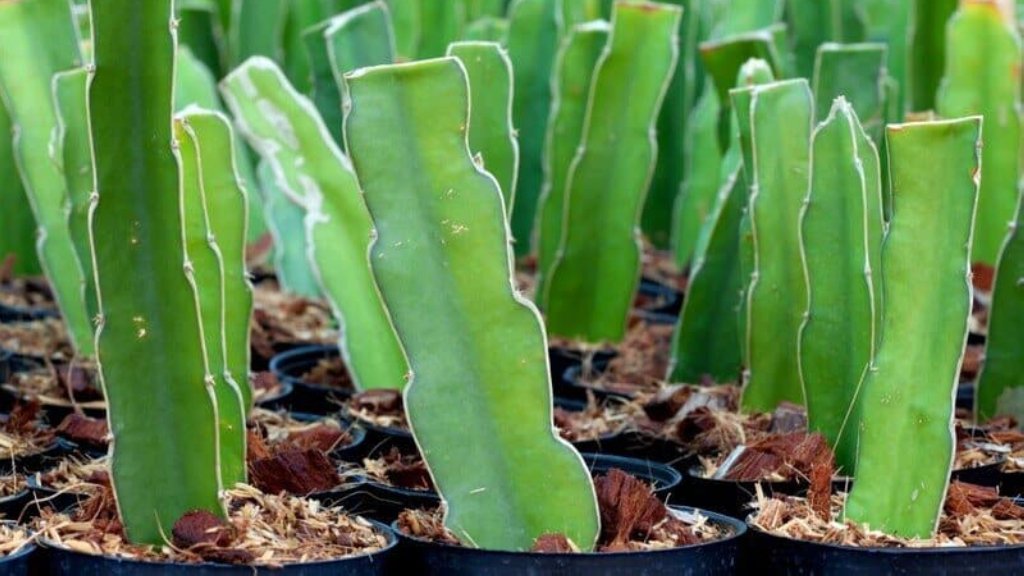 Pitaya fruit propagation occurs either from seed or stem cuttings. Propagation from seed is less reliable and will require patience, as the time from propagation to fruit production may take up to 3 to 5 years. More commonly accomplished via the use of stem cuttings, cuttings will grow rapidly and may produce fruit 6-9 months from propagation.

Container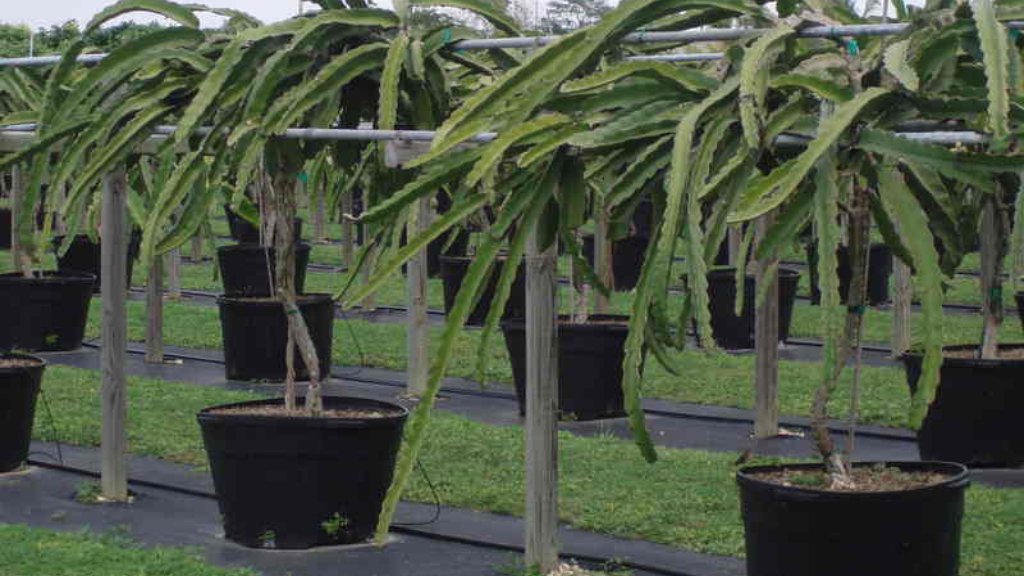 It can easily grow in a container or large size pot for effective results use one that is 18 to 25 inches in diameter and at least 15 to 20 inches in depth make sure it has a hole at the bottom for drainage.

Flower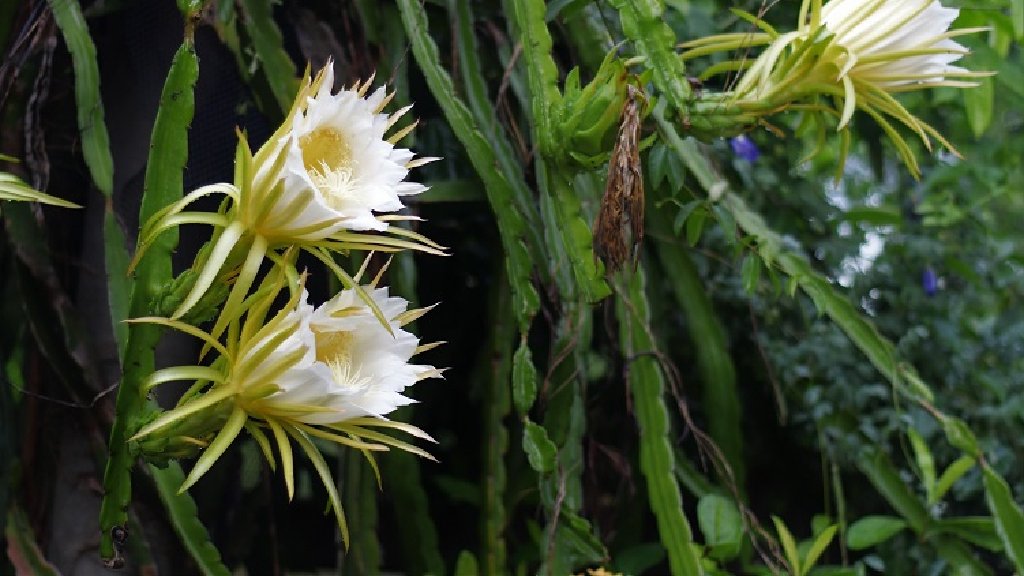 Flowers will bloom for one night and peak time is from 1 AM to 3 AM. Blossoms are highly aromatic, bell-shaped and yellowish green and are around a foot long and 7-9 inches across. The resulting fruit is produced in the summer. The time between flowering and fruiting varies. It can take anywhere from 20-40 days.

Sunlight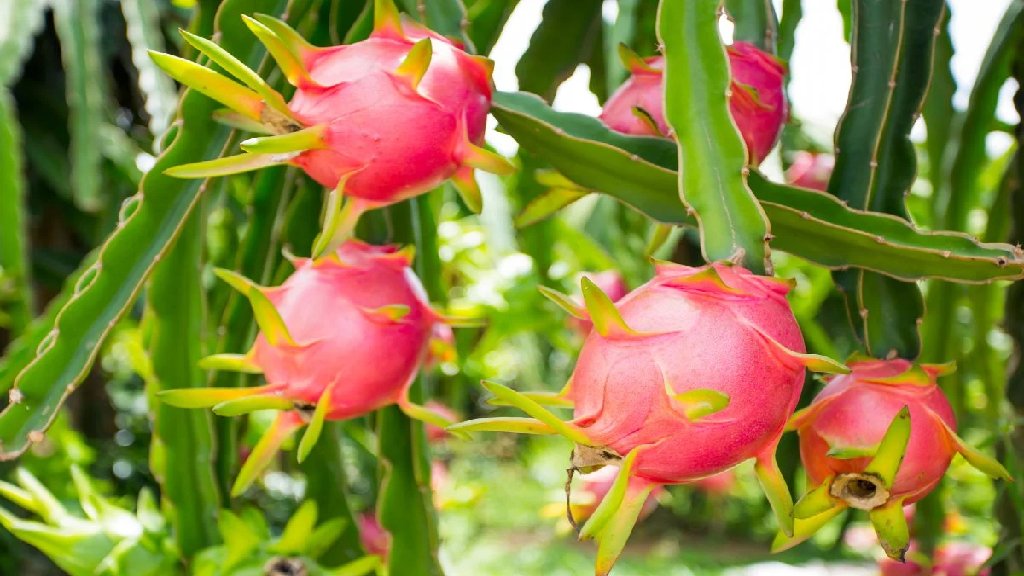 Pitaya fruit plant is a tropical to subtropical plant. Cactus need heat and sun. It's better to suitable the new plant in a dry area with partial sun. It is a climbing cactus that will require some type of support to grow up on.

Fertilizer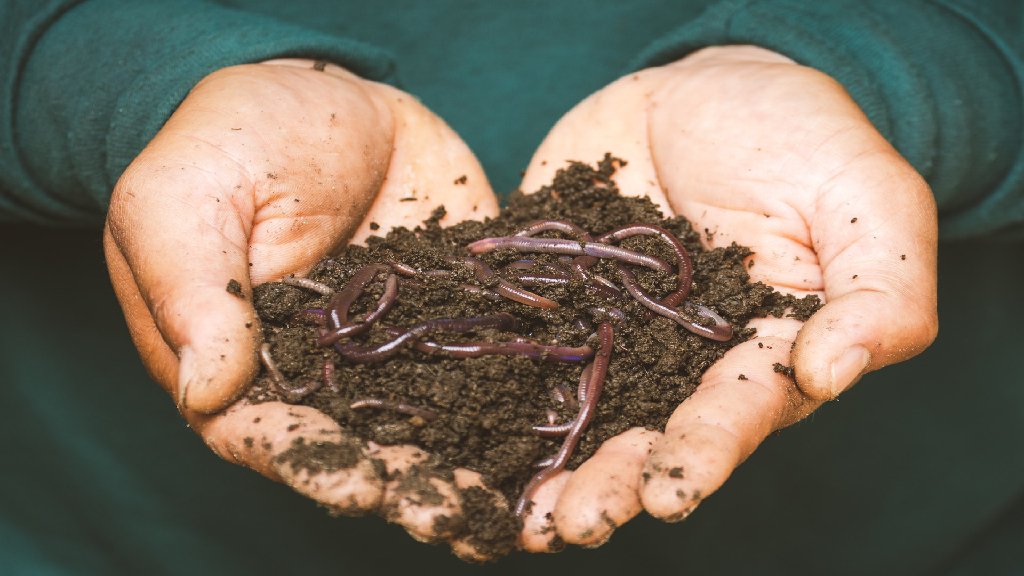 For best results feed them a little slow-time release, low-nitrogen cactus fertilizer like cattle dung, vermicompost once every 45 days.

Repotting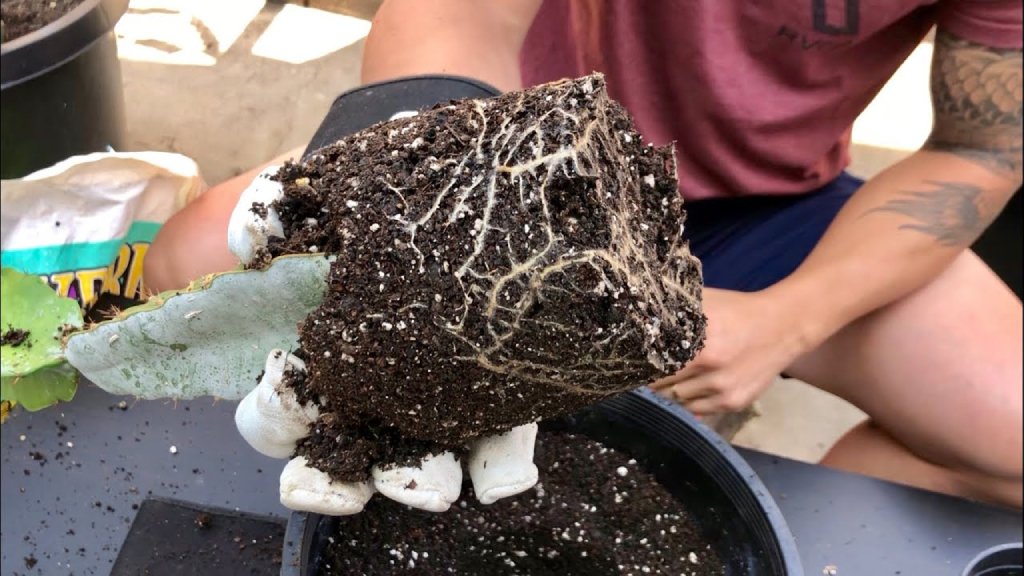 After 60-65 days cactus can transplant the cutting into a bigger pot have 2 other cuttings which are 100 days old and are of purple variety. Loosening or teasing the roots before plants in the ground will allow them to spread the roots out in all directions.

Harvest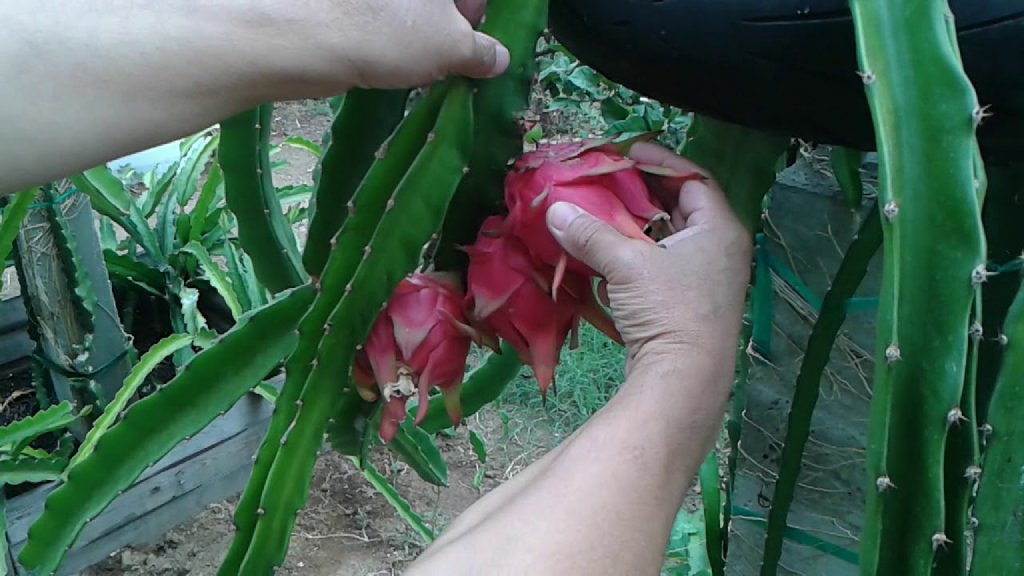 After pitaya fruit turns pinkish to red. Twist the fruit gently in clockwise and anticlockwise directions. Don't wait for the fruit to fall from the stem on its own.

Benefits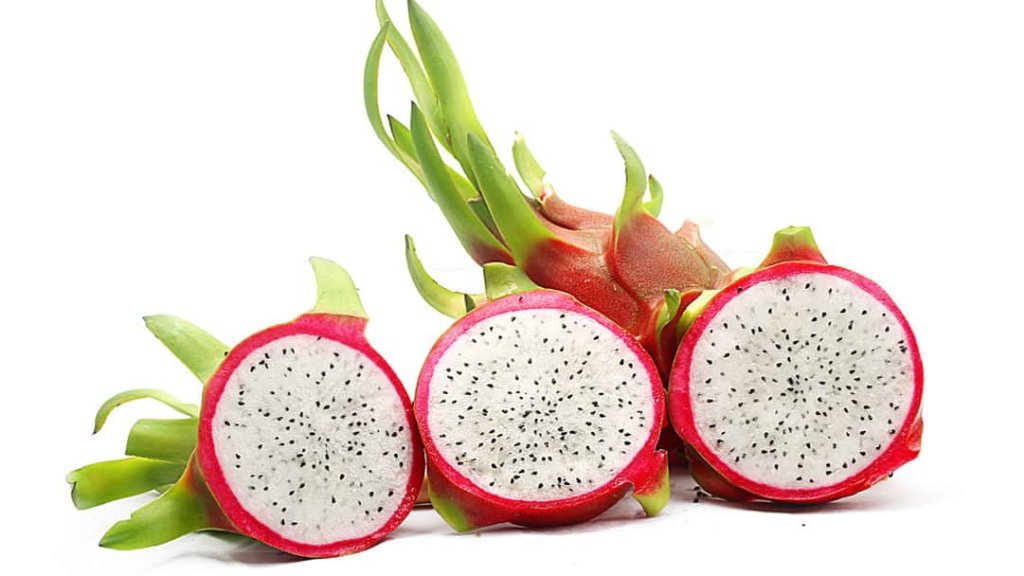 Pitaya helps fight chronic diseases.
Red dragon fruit is naturally fat-free and high in fibre.
Pitaya reduces the sign of ageing.
Red dragon fruit soothes sunburned skin.
This cactus fruit helps with weight loss.

"Green earth- Happy earth"
Dragon fruit evergreen plant
Blog complied by Santhionlineplants