Vermicompost
Vermicompost
Vermicompost is a type of organic fertilizer and It is  derived from composting organic waste by using various species of worms, red wigglers, white worms, & other earthworms basically to create a mixture of decomposing vegetables or food waste, bedding materials, and vermicast. It is used for terrace gardening because it gives nutrition to the plants.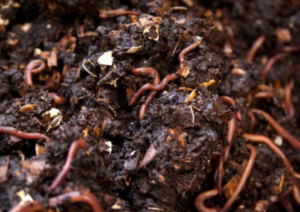 Materials for the preparation of vermicompost :
Crop residues
Weed biomass
Vegetable waste
Leaf litter
Cow dung
Water
Biodegradable wastes are collected from fields and kitchen
A large bin
Thatch roof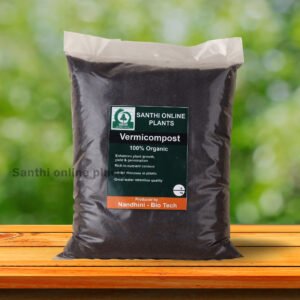 Procedure
The size of the tank depends upon the availability of raw materials.
Collect the biomass and place it under the sun for about 8-12 days. Basically chop it to the required size using the cutter.
Prepare a cow dung slurry and sprinkle it on the heap for quick decomposition.
Add a layer (2 – 3 inches) of soil or sand at the bottom of the tank.
Prepare fine bedding by adding  such as decomposed cow dung, dried leaves, & other biodegradable wastes collected from fields and the kitchen and also distribute them evenly on the sand layer.
In addition to the chopped bio-waste & partially decomposed cow dung layer-wise into the tank up to a depth of 0.5-1.0 ft.
Release the earthworm species over the mixture and cover the compost mixture with dry straw or gunny bags.
Sprinkle water on a regular basis to maintain the moisture content of compost.
Cover the tank with a roof to prevent the entry of ants, lizards, mice, snakes and also  protect the compost from rainwater and direct sunshine.
Occasionally check to avoid the compost from overheating and also Maintain proper moisture and temperature.
Vermicompost – mixture
One part garden soil, one part coco peat &  one part vermicompost, all three are thoroughly mixed and added to the pot.
What are the Characteristics of vermicomposting
Vermicompost is a powdered like material which contains high nutrients, good microbes, drainage, water-holding capacity and a growth enhancer.
Benefits of using vermicompost on plants for terrace gardening
You notice a good growth of the plant by use of Vermiwash.
Good farming is possible with use reduction in the cost of water and chemical fertilizers.
It makes the environment healthy.
Increases fertility of land at low cost.
Enhances physical, chemical, and biological properties of soil.
Increases the catchment power of the soil.
The product produced from this is delicious.
conclusion :
In conclusion Vermicompost has revolutionized vegetable farming and terrace gardening. Likewise In organic farming, it showed the postive  results among all fertilizers and also works on terrace gardening. As a result we can get food healthy vegetables and fruits by using vermicompost. As Shown above It's 100% natural and organic fertilizer for plants.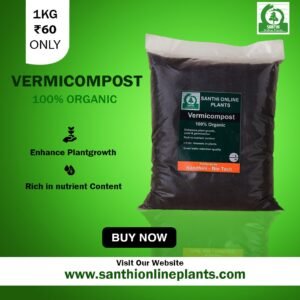 Where to buy organic vermicompost online
We have organic fertilizers, pesticides, plants, and grow bags on our website and Our vermicompost is 100% organic. It enhances plant growth, yield & germination. it's rich in nutrient content. Inhabit diseases in plants and great water retention quality. Want to BUY!!! Check out our website
www.santhionlineplants.com